Fiona has always had a passion for all creatures, great and small. In 1996 this was reinforced after she saw her first horse struggle through the effects and treatment of Ross River fever. Following his lengthy recovery, Fiona sought the expertise of a qualified animal physiotherapist to assist the rehabilitation process, only to find there were none. It was at this point Fiona realised she wanted to specialise in the rehabilitation, performance and general well-being of animals.
Fiona graduated with a science degree at La Trobe University, Melbourne in 2002 and then went on to complete a double degree in Physiotherapy and Exercise Science from Griffith University, Queensland, in 2007. Having worked in a broad range of physiotherapy areas domestically and internationally Fiona's intention was to always specialise in animals. In 2012 Fiona embarked on completing her Masters in Veterinary Physiotherapy through the University of Liverpool in the UK. In May 2014 Fiona completed her post graduate exams becoming a fully qualified, practising animal physiotherapist. Fiona then continued her studies completing her Masters in April 2015. Fiona's Masters dissertation looked at the effects of physiotherapy treatment in unridden horses using pressure algometry.
Fiona has been around both dogs and horses all her life and is keen to optimise their performance and general well being, working closely with veterinarians, farriers, dentist etc. She also has a keen interest in the close relationship between horse and rider biomechanics and their effect on performance. All Creatures Physiotherapy is a mobile service for horses, riders, dogs and other small animals requiring physiotherapy.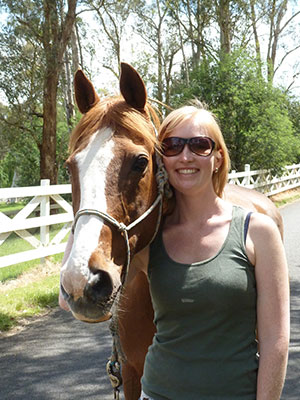 Fiona with her first horse and inspiration, Larry
Fiona's on going training has included:
Australian Physiotherapy Association Conference presenter, 2013
Australian Physiotherapy Association Animal Group Level 1 Course Conveynor November, 2014
Intergrated Dry Needling Course Level 1 and Advanced Level 2 November, 2014
Rocktape Course for Horse and Rider February, 2015
Australian Physiotherapy Association Conference National Guest Speaker, October 2015